JANUS Advanced Trainer Concept
The Janus Concept is proposed by a European Consortium consisting of 14 companies from 7 nations. A Feasibility Study has been proposed by the Consortium in the context of EDF European Defence Fund and EDA European Defence Agency
Challenges for today's Air Forces
Modern Air Forces are confronted with dramatic cost increases. A major cost factor is the use of high-performance combat aircraft in a variety of missions in which their performance and capabilities are not fully required. This consumes airframe flight-hours at a high pace and leads to a waste of resources.
JANUS can save costs by complementing or replacing first-line combat aircraft.
Current State
Advanced and Operational Training, Air Combat Training or Aggressor Roles represent typical missions for which expensive combat aircraft flight-hours are not required.
Use of old and cheap aircraft in so-called "aggressor squadrons" often offered by civil companies is the current practice to reduce operating costs. However, the capabilities of these legacy types are constrained.

ALR's Solution: JANUS*
JANUS combines minimal cost with advanced high-energy training. Specific Excess Power and Turn-Rates similar to fighters' minimize the performance gap between legacy trainers and fighters. Operational training with JANUS can replace expensive fighter-hours. Even Air Policing as an operational role can be partially fulfilled.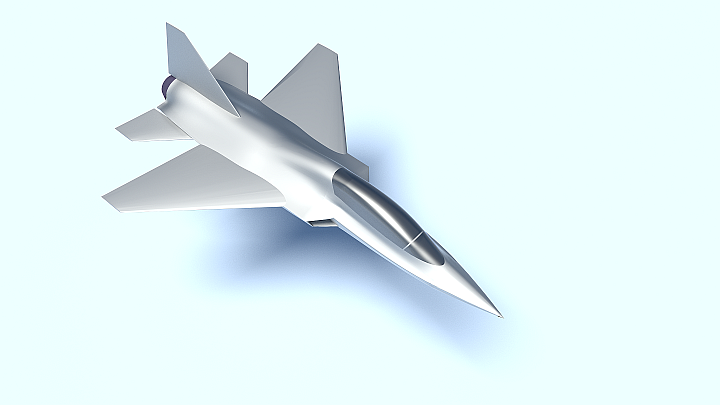 With JANUS, the ability to train for the dynamic requirements found in high-performance fighters becomes a low cost reality. Realistic "Red-Air" simulations, engagement-maneuvering and rapid block-changes can become an integral part of training.
This allows for the creation of diverse scenarios like electronic warfare, visual identification and interception. Supersonic speeds enable effective air policing, rapid interception and visual identification of "cooperative" targets from CAP or QRA Positions.
JANUS is strictly focused on Low-Cost and Minimal Risk
High performance and energy at very low cost

Dedicated design without compromise

Extensive use of off- and on-board simulation in combination with data-link to minimize mission-related equipment

Size and layout optimized for training, "Red-Air" simulation and support missions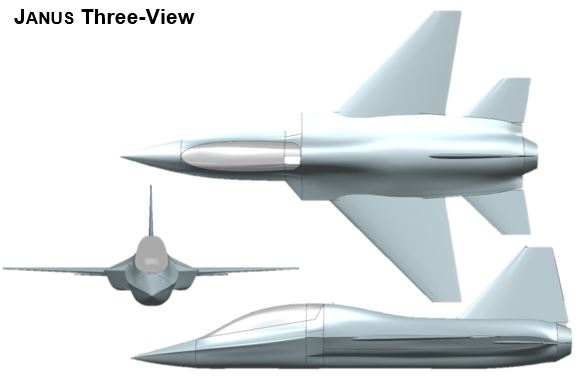 Basic Specifications
Description
Unit
Dimensions
Length
m
11.00
Wingspan
m
8.00
Clean Takeoff Weight
kg
4,800
Wing Area
m²
18.00
Max. Reheat Thrust
kN
42-45
Max. Speed
Mach
1.3
Ferry Range
km
2,000
Press
Links
The JANUS concpet is developed by ALR's CoC Aerospace Projects
The JANUS design was analyzed using ALR's aircraft performance software:
A comparison of JANUS to current combat- and training aircraft was made by ALR through the capabilities available and ALR's extensive database
---
*'Janus' describes the duality in all kinds of expressions in Roman mythology. Here, Janus refers to two key elements of the concept: 'body and mind' or 'air vehicle and avionics'.